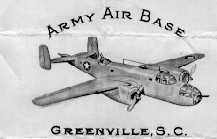 Quiz's Mitchell Mania
Celebrating the most celebrated of World War II medium bombers, the B-25 Mitchell.
This site is dedicated to the B-25 Mitchell Bomber, named after airpower advocate Billy Mitchell. The Mitchell was a highly effective World War II era medium bomber, used in almost every theater of war and by most of the Allied Powers. The end of the war did not mean the end of the Mitchell. The B-25 went into service of numerous foreign countries and became a business transport, crop duster and found numerous other uses in the United States. The links to the right will give you a good start on your research or interest in the B-25. You can find a short, general history of the Mitchell and my favorite Bomb Group, the 345th, the famed Air Apaches. You can also find sources of information on the B-25 in the books and links sections. Numerous photos, mostly taken by the author of this site are also available. The B-25 advertisement section shows World War II magazine ads from Life and other magazines of the 1940's that feature the B-25. Many of these ads are really well done....I am sure that you will enjoy them if you look at them. I have included an article on my uncle that was published in a local magazine a few years ago about my his training, deployment and eventual death in the 345th BG in April of 1945. I have also linked up Newnan High School's oral history site as well as a B-25 pilot and what he had to tell high school students.
So, if you are interested in the B-25 in any way, or you are doing research, or just browsing, I hope that you take a long look at this incredible aircraft. If you have any questions or share my interest, please email me. I really enjoy corresponding with people that are interested in history and military aviation.
* I would like to give credit to Newnan High School students who helped me prepare this site. Will edited and helped with graphics. Ellen, Patricia, Brooke, Delia, Sarah, Rita, Nick, Gilliam, Janin , John, Elizabeth, Bo, Amanda, Corrine, Jeremy, Elizabeth and Mary helped with research for this site as well as my VHS class. I appreciate it!

Comments, suggestions or questions, please email me at squiz@mail.newnanutilities.org
Please check the new section on the Doolittle Raiders- Pictures and Film clips from the April, 2002 Reunion!
Click the B-25 Photographs link to the left...